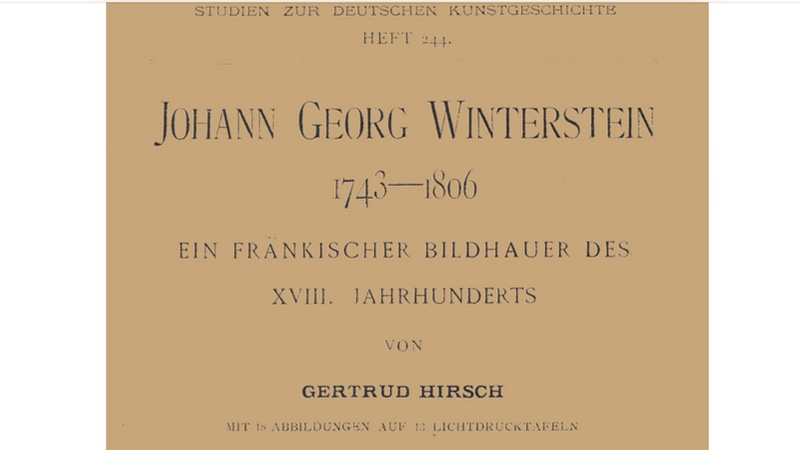 Gertrude Mayer was the daughter of judicial councilor and notary Kuno Hirsch and Elisabeth Hirsch. Both were murdered in Theresienstadt.
"I was an only child and had a very happy childhood. We were completely assimilated, and I wasn't even aware of any difference between Jews and Christians. I attended the Alexandrine School, had friends like the other girls, and never felt like an outsider. During World War I, we were patriotic like the other Coburgers. We went to the marketplace to celebrate the victories, and when the war was lost, we were shocked and distressed."
Letter from Gertrude Mayer to Hubert Fromm, 1988
Gertrude Mayer studied in Munich, Berlin and Würzburg, received her doctorate in art history in 1926, and then worked in the art collections of the famous Coburg Fortress (Veste Coburg).
She no longer felt at home in Coburg, and had not since her school days. Her sense of isolation began after World War I, when the princesses of Hohenlohe did not want Jews to get invited to school dances.
"I was no longer invited to the Stiftungsfest (Founder's Day). I had to listen to them complain about the Jews. My friends from the Alexandrine School pretended not to know me anymore, and when we ran into each other in town, they would stand and admire a shop window so as not to have to greet me. Yes, it got to the point where I couldn't talk to most of my classmates because they ignored me. The breaks were the worst, because usually I was just standing around by myself." – Letter from Gertrude Mayer to Hubert Fromm, 1988
In 1928 she married the Munich physician Dr. Eugen Mayer and in 1932 found work in the Jewish women's school in Wolfratshausen, in the Isar Valley. The school was extremely important at this time for girls who intended to emigrate to Palestine and therefore wanted to learn home economics and agriculture.
Gertrude Mayer and her husband were able to emigrate to America. She remained active into old age with courses and art history tours at the Jewish Museum, in New York City.